7353 Scottsdale Mall
Scottsdale, Arizona 85251
480.994.5576
NOW OPEN FOR
LIMITED CAPACITY SEATING ADHERING TO SOCIAL DISTANCING AND OTHER
HEALTH ADVISORY GUIDELINES
AZ/88 is a modern saloon with award winning cocktails and classic
cuisine. Since 1988, the interior of minimal design supports ever- changing works of art, not unlike a gallery or it's two neighboring museums.
cocktails served: 11:00am -1:30am
7 days a week
kitchen open: 11:00am -12:30am
7 days a week
Closed Thanksgiving
Christmas Eve:
cocktails: 11am-4:45pm
kitchen: 11am-4:00pm
Christmas Day:
cocktails: 5:00pm -1:30am
kitchen: 5:00pm-12:30am
Gluten free menu available upon request.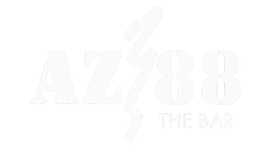 AZ88 Copyright 2020. AZ/87 Corporation